The Path-walker: What art materials do you use? Paper, of course, but what else? Ink, China ink, gouache paint, water colours? If using various materials, could you say in what ways they are different? Do you associate paint colours with Wu Xing? Is it important to use special kinds of brush and paint in this work? Which ones do you recommend?
AS
: This kind of questions always reawaken me to the metaphysical nature of Wu Xing painting that is above all form. That's why Wu Xing painting doesn't require any special tools or materials. The more I practice it, the more evidence I find to support this point of view. Having said that, Chinese calligraphy brushes are best suited for applying swift brushstrokes. As a result, it looks more 'Chinese', so at the beginning it might help develop the right skills. Otherwise, there is a full creative freedom.
For example, in our recent master class we decorated plates and dishes: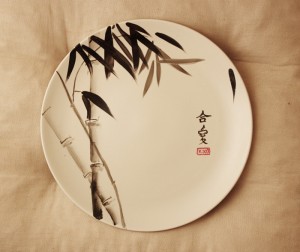 We also gave a master class where we taught the skills of painting on clothes:
At another recent master class we painted on Chinese scrolls, fans, and paperboard:
We also did some decorative wall painting as you can see above.
I would like to repeat that you can use all sorts of art materials. It can be Chinese ink, acrylic, or anything you like. Of course, there are some tricks to using various paints on various surfaces but eventually it's all about form whereas the essence of the process remains the same. Perhaps you would like to read another of my articles that describes four types of viewing creativity.
We know that Wu Xing is linked to various colour paints. For instance, Wood is turquoise, Fire is vermillion, and so on. Some modern practices like Zhong Yuan Qigong use colourtherapy based on Wu Xing. But I prefer conscious awareness to blindly following in someone else's steps. In my experience, I haven't yet detected the objective links between these things. Personally, I sense that here it works the other way round. First, someone convinces himself that liver is connected to the turquoise colour, and then he starts applying it as a kind of self-hypnosis.
There might be a connection between Wu Xing and coloristics, but then we should attempt a more comprehensive approach. For instance, Gauguin's paintings offer a rich contrast of cool and warm hues. They stir up a cauldron of emotions in the heart of a viewer, that's why contrasting cool and warm hues is 'Fire' energy. But when you look at monochrome Japanese Sumi-e paintings, they often evoke a sense of peace and even sadness. That's why contrasting dark and light colours can be associated with 'Metal' energy, and so on.